Overview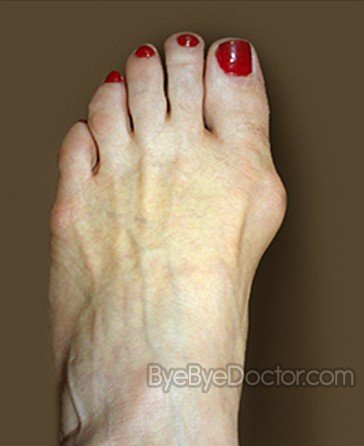 A bunion, also known as hallux valgus, is a painful deformity that develops at the base of the big toe. Bunions are caused when the big toe pushes and bends inward towards the other toes. This displaces the bones of the joint, causing it to protrude in a way that looks like a large growth. Bunions develop due to a variety of factors. Some people inherit feet that are more susceptible due to their shape and structure, having flat feet for instance. But bunions can be made worse by the wrong shoe, or by carrying extra weight or prolonged periods of standing or walking.
Causes
The exact cause of bunions is unknown, but they tend to run in families. Wearing badly fitting shoes is thought to make bunions worse. It's also thought that bunions are more likely to occur in people with unusually flexible joints, which is why bunions sometimes occur in children. In some cases, certain health conditions, such as rheumatoid arthritis and gout, may also be responsible.
Symptoms
Patients with bunions will often display pain over the prominent bump on the inside of their forefoot (the medial eminence?). However, they may also have pain under the ball of the foot (under the area near the base of the second toe). Symptoms can vary in severity from none at all to severe discomfort aggravated by standing and walking. There is no direct correlation between the size of the bunion and the patient?s symptoms. Some patients with severe bunion deformities have minimal symptoms, while patients with mild bunion deformities may have significant symptoms. Symptoms are often exacerbated by restrictive shoe wear, particularly shoes with a narrow toe box or an uncomfortable, stiff, restraining upper.
Diagnosis
Orthopaedic surgeons diagnose bunions on the basis of physical examination and weight bearing x-rays. Two angles are assessed, the intermetatarsal angle, that is between the first and second metatarsals (the bones that lead up to the base of the toes). If this angle exceeds 9? (the angle found in the healthy foot) it is abnormal and referred to as metatarsus primus varus. the hallux valgus angle, that is, the angle of the big toe as it drifts toward the small toe. An angle that exceeds 15? is considered to be a sign of pathology.
Non Surgical Treatment
Currently, no strong evidence points to the best treatment for bunions. But in most cases, you can treat them at home. This includes taking medicine you can buy without a prescription to relieve toe pain. It also helps to wear shoes that do not hurt your feet. For example, avoid high heels or narrow shoes. You can wear pads to cushion the bunion, and in some cases, you can use custom-made shoe inserts (orthotics). Avoid activities that put pressure on your big toe and foot. But don't give up exercise because of toe pain. Try activities that don't put a lot of pressure on your foot, such as swimming or bicycling. Surgery to correct a bunion may be an option if other treatment does not relieve pain. There are different types of surgery for bunions. You and your doctor can decide which one is best for you.
Surgical Treatment
Recent advances in surgical techniques have led to very high success rates for bunion surgery. In most cases the patient can walk immediately after surgery without crutches. As well most patients find the surgery to be virtually pain free. Almost all bunion surgery is done as an outpatient at a surgery center. Most bunion surgery is performed with a local anesthetic block and IV sedation (twilight sleep). After the procedure you will be moved to the recovery room for about an hour. You will then be ready to go home.
Prevention
The best way to reduce your chances of developing a bunion is to wear shoes that fit properly. Any shoe that is too tight or too high will force your toes together and may cause the condition to develop. Shoes need to be wide enough, so they aren't rubbing against the joint, and preferably made of leather. Avoid shoes with a lot elaborate stitching at the front, as this can also cause irritation. Heels should be no more than three to four inches and you should only wear them occasionally. Court shoes should seldomly be worn, as they do not give the foot any support. Be honest with yourself, you know if your shoes aren't fitting you comfortably. Do something about it, or you will suffer for your vanity.