Overview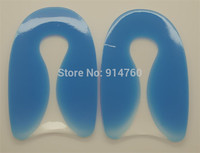 A rupture of the Achilles tendon means that there has been either a complete, or partial, tear of the tendon which connects the calf muscles to the heel bone. Usually this occurs just above insertion on the heel bone, although it can happen anywhere along the course of the tendon. Achilles tendon rupture occurs in people that engage in strenuous activity, who are usually sedentary and have weakened tendons, or in people who have had previous chronic injury to their Achilles tendons. Previous injury to the tendon can be caused by overuse, improper stretching habits, worn-out or improperly fitting shoes, or poor biomechanics (flat-feet). The risk of tendon rupture is also increased with the use of quinolone antibiotics (e.g. ciprofloxacin, Levaquin).
Causes
Repeated stress from a variety of causes is often the cause of Achilles tendon injury. The stress may occur from any of the following. Excessive activity or overuse. Flat feet. Poorly fitting or inadequate shoes. Inadequate warm-up or proper conditioning. Jogging or running on hard surfaces. Older recreational athlete. Previous Achilles tendon injury (tendonitis/rupture). Repeated steroid injections. Sudden changes in intensity of exercise. Use of fluoroquinolone antibiotics (especially in children). Trauma to the ankle. Tense calf muscles prior to exercise. Weak calf muscles.
Symptoms
When the Achilles tendon ruptures a loud bang or popping sound may be heard. The person may feel that they have been hit or kicked in the back of the lower leg and often they will look over their shoulder to see who or what has hit them. This is quickly followed by the sudden onset of sharp pain in the tendon and a loss of strength and function. If a complete rupture has occurred it may not be possible to lift the heel off the ground or point the toes. Often the degree of pain experienced, or lack of it, can be inversely proportional to the extent of the injury, ie a partial rupture may in fact be more painful than a complete rupture.
Diagnosis
Diagnosis of Achilles tendon rupture is not difficult. Usually, the diagnosis is obvious after examination of the ankle and performing some easy foot maneuvers (such as attempting to stand on the toes). When an Achilles tendon rupture occurs, there is often clinical confirmation of tenderness and bruising around the heel. A gap is felt when the finger is passed over the heel area, where the rupture has developed. All individuals with a full-blown rupture of the tendon are unable to stand on their toes. There is no blood work required in making a diagnosis of Achilles tendon rupture. The following are three common radiological tests to make a diagnosis of Achilles tendon rupture. Plain X-rays of the foot may reveal swelling of the soft tissues around the ankle, other bone injury, or tendon calcification. Ultrasound is the next most commonly ordered test to document the injury and size of the tear. For a partial tear of the Achilles tendon, the diagnosis is not always obvious on a physical exam and hence an ultrasound is ordered. This painless procedure can make a diagnosis of partial/full Achilles tendon rupture rapidly. Ultrasound is a relatively inexpensive, fast, and reliable test. MRI is often ordered when diagnosis of tendon rupture is not obvious on ultrasound or a complex injury is suspected. MRI is an excellent imaging test to assess for presence of any soft-tissue trauma or fluid collection. More importantly, MRI can help detect presence of tendon thickening, bursitis, and partial tendon rupture. However, MRI is expensive and is not useful if there is any bone damage.
Non Surgical Treatment
Non-surgical management traditionally was selected for minor ruptures, less active patients, and those with medical conditions that prevent them from undergoing surgery. It traditionally consisted of restriction in a plaster cast for six to eight weeks with the foot pointed downwards (to oppose the ends of the ruptured tendon). But recent studies have produced superior results with much more rapid rehabilitation in fixed or hinged boots.
Surgical Treatment
Some surgeons feel an early surgical repair of the tendon is beneficial. The surgical option was long thought to offer a significantly smaller risk of re-rupture compared to traditional non-operative management (5% vs 15%). Of course, surgery imposes higher relative risks of perioperative mortality and morbidity e.g. infection including MRSA, bleeding, deep vein thrombosis, lingering anesthesia effects, etc.